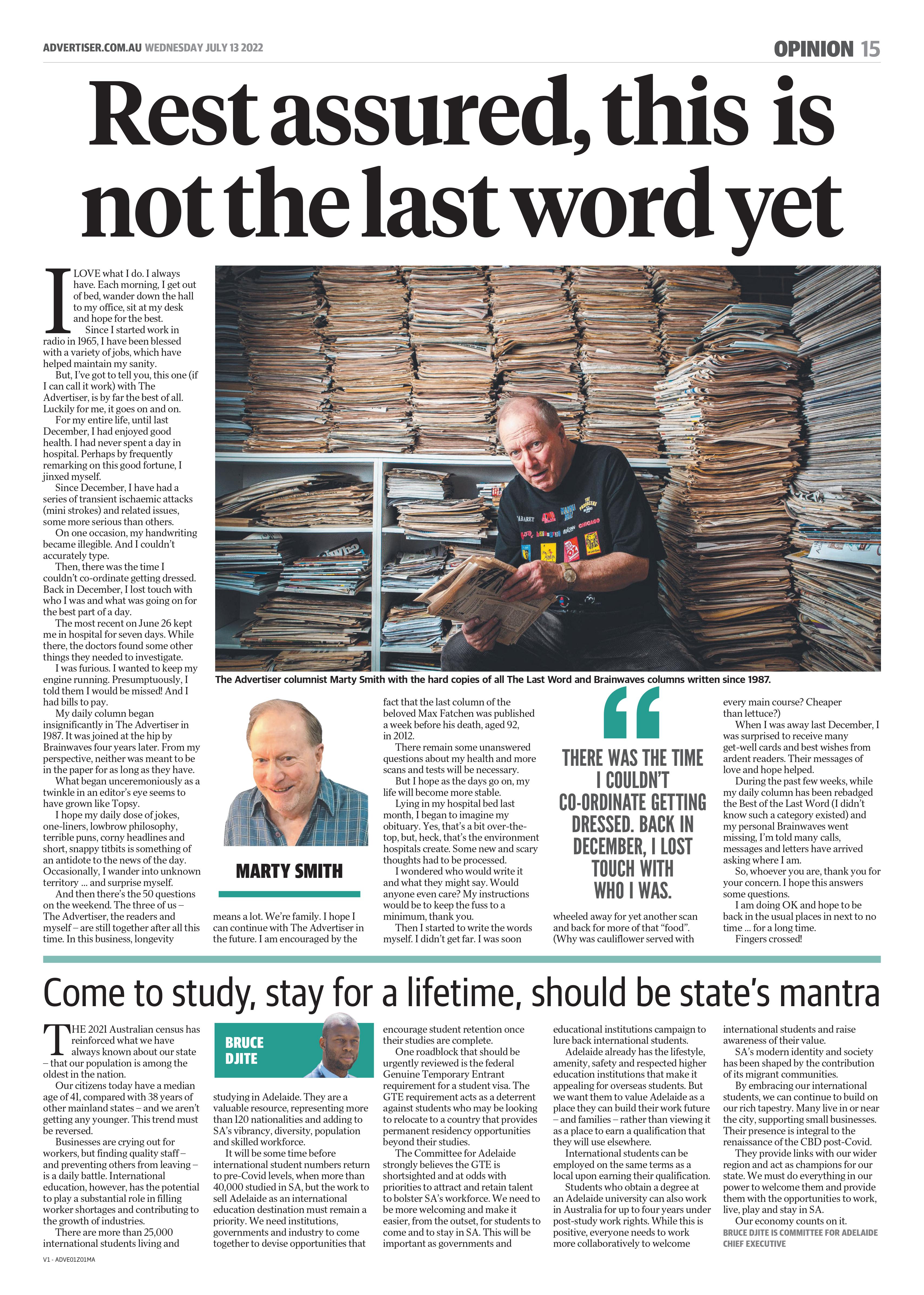 Bruce Djite: Their presence will be integral to the renaissance and vibrancy of the CBD post-Covid
A valuable resource is being driven out of Adelaide, writes Bruce Djite. And the city's future depends on changing course quickly.
The 2021 Australian Census has reinforced what we have always known about our state – that our population is among the oldest in the nation.
Our citizens today have a median age of 41 compared to 38 years of other mainland states – and we aren't getting any younger. This trend must be reversed.
The Census statistics are evidence that now, more than ever, South Australia needs to work harder to replenish its working-age population to ensure our state's future economic prosperity. But it's even more important given one of the biggest challenges facing businesses in 2022 is attracting and retaining talent.
Businesses are crying out for workers but finding the requisite staff – and preventing others from leaving – is a daily battle for employers. Australia's low unemployment rate, combined with Covid-19 accelerating career changes, have employees looking for greener pastures.
International education, however, has the potential to play a substantial role in filling the worker shortage and contributing to the growth of our future-facing industries. There are more than 25,000 international students living and studying in Adelaide. They are a valuable resource at our disposal, representing more than 120 nationalities and adding to SA's vibrancy, diversity, population, and skilled workforce.
They bring qualifications and experience in fields with skills shortages and are the perfect working-age demographic that so many organisations so desperately need.
It will be some time before international student numbers return to pre-Covid levels, when more than 40,000 studied in SA, but the work to sell Adelaide as an international education destination must remain a priority so we can attract high-quality students, research partnerships, and deliver highly skilled graduates.
More than 90 per cent of SA businesses are small to medium and I see significant potential in matching the skills gaps of these employers with the capabilities of our international students. To do so, we need our educational institutions, governments, key stakeholders, businesses, and industry to come together to devise opportunities that encourage student retention once their studies are complete.
One roadblock that should be urgently reviewed is the federal Genuine Temporary Entrant requirement for a student visa, including the messaging and global interpretation associated with this. The GTE requirement acts as a deterrent against students who may be looking to relocate to a country that provides permanent residency opportunities beyond their studies.
The Committee for Adelaide strongly believes the GTE is shortsighted and at odds with priorities to attract and retain talent to bolster SA's workforce. We need to be more welcoming and make it easier, from the outset, for students to come and to stay in SA, if we want to compete in a global market.
This will be critically important as governments and educational institutions campaign to lure back international students.
Adelaide already has the lifestyle, amenity, safety, and highly respected higher education institutions that make it an appealing destination for overseas students. But we want them to value Adelaide as a place they can build their work future – and families – rather than viewing it as a place to earn a qualification which they will use elsewhere.
International students can be employed on the same terms as a local upon earning their qualification. Students who obtain a degree at an Adelaide university can also work in Australia for up to four years under post-study work rights. While this has been a positive step, everyone needs to work more collaboratively to welcome international students and raise awareness of their value.
A controversial student accommodation building during its construction on North Terrace. Picture: Tom Huntley
SA's modern identity and society has been shaped by the contribution of its migrant communities. By embracing our international students and the invaluable life and diversity they bring to our campuses – and our state – we can continue to build on our rich tapestry.
Many international students live in or close to the city, supporting countless small businesses. Their presence will be integral to the renaissance and vibrancy of the CBD post-Covid. International and domestic students benefit from being together on campus by sharing and developing knowledge and understanding, which will be important for their professional careers. Friendships and bonds can last a lifetime.
The Albanese government's recent announcement of the Jobs and Skills Summit in Canberra in September provides a perfect opportunity to ensure international students are included as part of the solution to address skills shortages.
International students provide links with our wider geopolitical region and can act as champions and ambassadors for our state. We must do everything in our power to welcome them with open arms and provide them with the opportunities to work, live, play and stay in SA. Our economy counts on it.
Click here to see the article online.