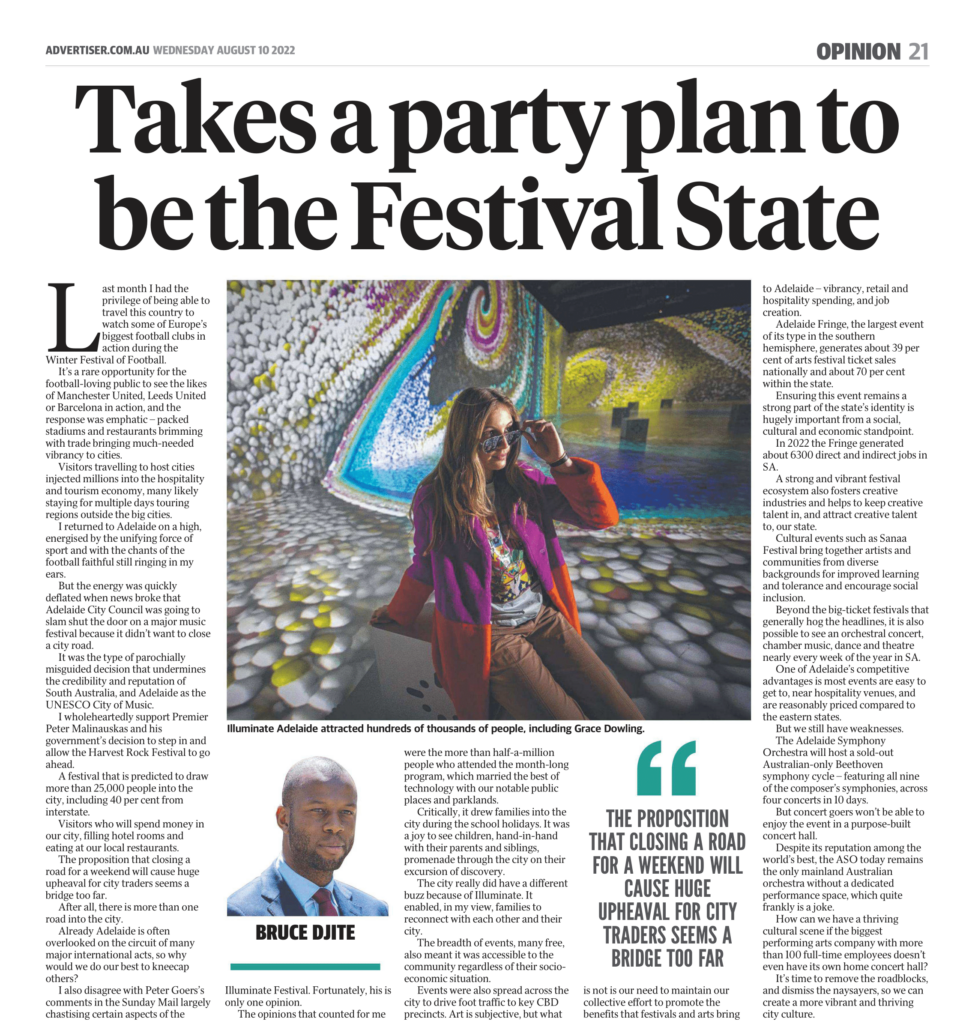 Adelaide might like to call itself Australia's festival capital but major acts and events are starting to disagree, writes our CEO Bruce Djite in his latest opinion piece for The Advertiser.
Last month I had the privilege of being able to travel this country to watch some of Europe's biggest football clubs in action during the Winter Festival of Football.
It's a rare opportunity for the football-loving public to see the likes of Manchester United, Leeds United or Barcelona in action, and the response was emphatic – packed stadiums and restaurants brimming with trade bringing much needed vibrancy to cities.
Visitors travelling to host cities injected millions into the hospitality and tourism economy, many likely staying for multiple days touring regions outside the big cities.
I returned to Adelaide on a high, energised by the unifying force of sport and with the chants of the football faithful still ringing in my ears.
But the energy was quickly deflated when news broke that Adelaide City Council was going to slam shut the door on a major music festival because it didn't want to close a city road.
It was the type of parochially misguided decision that undermines the credibility and reputation of South Australia, and Adelaide as the UNESCO City of Music.
I wholeheartedly support Premier Peter Malinauskas and his government's decision to step in and allow the Harvest Rock Festival to go ahead. A festival that is predicted to draw more than 25,000 people into the city, including 40 per cent from interstate. Visitors who will spend money in our city, filling hotel rooms and eating at our local restaurants.
The proposition that closing a road for a weekend will cause huge upheaval for city traders seems a bridge too far. After all, there is more than one road into the city.
Already Adelaide is often overlooked on the circuit of many major international acts, so why would we do our best to kneecap another?
I also disagree with Peter Goers's comments in the Sunday Mail largely chastising certain aspects of the Illuminate Festival. Fortunately, his is only one opinion.
The opinions that counted for me were the more than half-a-million people who attended the month-long program, which married the best of technology with our notable public places and parklands.
Critically, it drew families into the city during the school holidays. It was a joy to see children, hand-in-hand with their parents and siblings, promenade through the city on their excursion of discovery.
The city really did have a different buzz because of Illuminate. It enabled, in my view, families to reconnect with each other and their city.
The breadth of events, many free, also meant it was accessible to the community regardless of their socio-economic situation. Events were also spread across the city to drive foot traffic to key CBD precincts.
Art is subjective, but what is not is our need to maintain our collective effort to promote the benefits that festivals and arts bring to Adelaide – vibrancy, retail and hospitality spending, and job creation.
Adelaide Fringe, the largest event of its type in the southern hemisphere, generates about 39 per cent of arts festival ticket sales nationally and about 70 per cent within the state.
Ensuring this event remains a strong part of the state's identity is hugely important from a social, cultural and economic standpoint. In 2022 the Fringe generated about 6300 direct and indirect jobs in SA.
A strong and vibrant festival ecosystem also fosters creative industries and helps to keep creative talent in, and attract creative talent to, our state.
Cultural events such as Sanaa Festival bring together artists and communities from diverse backgrounds for improved learning and tolerance and encourage social inclusion.
Beyond the big-ticket festivals that generally hog the headlines, it is also possible to see an orchestral concert, chamber music, dance and theatre nearly every week of the year in SA.
One of Adelaide's competitive advantages is most events are easy to get to, near hospitality venues, and are reasonably priced compared to the eastern states.
But we still have weaknesses.
The Adelaide Symphony Orchestra will host a sold-out Australian-only Beethoven symphony cycle – featuring all nine of the composer's symphonies, across four concerts in 10 days.
But concert goers won't be able to enjoy the event in a purpose-built concert hall.
Despite its reputation among the world's best, the ASO today remains the only mainland Australian orchestra without a dedicated performance space, which quite frankly is a joke.
How can we have a thriving cultural scene if the biggest performing arts company with more than 100 full-time employees doesn't even have its own home concert hall?
It's time to remove the roadblocks, and dismiss the naysayers, so we can create a more vibrant and thriving city culture.
This article was originally published in The Advertiser on 10 August 2022. Click here to read the article online.