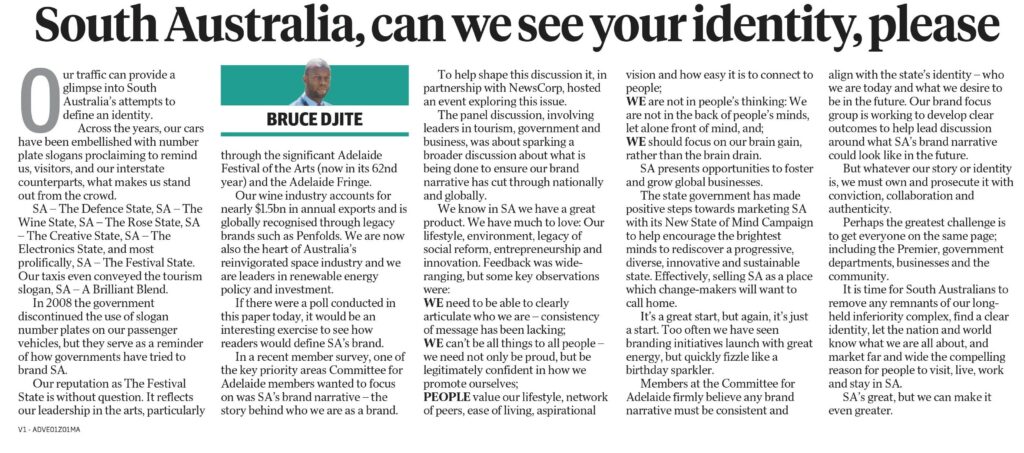 Our traffic can provide a glimpse into South Australia's attempts to define an identity.
Across the years our cars have been embellished with number plate slogans, proclaiming to remind us, visitors, and our interstate counterparts, what makes us stand out from the crowd.
SA – The Defence State, SA – The Wine State, SA – The Rose State, SA – The Creative State, SA – The Electronics State, and most prolifically, SA – The Festival State. Our taxis even conveyed the tourism slogan, SA – A Brilliant Blend.
In 2008 the government discontinued the use of slogan number plates on our passenger vehicles, but they serve as a reminder of how governments have tried to brand SA.
Our reputation as The Festival State is without question.
It reflects our leadership in the arts, particularly through the significant Adelaide Festival of the Arts (now in its 62nd year) and the Adelaide Fringe.
Our wine industry accounts for nearly $1.5bn in annual exports and is globally recognised through legacy brands such as Penfolds. We are now also the heart of Australia's reinvigorated space industry and we are leaders in renewable energy policy and investment.
If there were a poll conducted in this paper today, it would be an interesting exercise to see how readers would define SA's brand.
In a recent member survey, one of the key priority areas Committee for Adelaide members wanted to focus on was SA's brand narrative – the story behind who we are as a brand.
To help shape this discussion it, in partnership with NewsCorp, hosted an event exploring this issue.
The panel discussion, involving leaders in tourism, government and business, was about sparking a broader discussion about what is being done to ensure our brand narrative has cut through nationally and globally.
We know in SA we have a great product. We have much to love: Our lifestyle, environment, legacy of social reform, entrepreneurship and innovation. Feedback was wide-ranging, but some key observations were:
WE need to be able to clearly articulate who we are – consistency of message has been lacking;
WE can't be all things to all people – we need not only be proud, but be legitimately confident in how we promote ourselves;
PEOPLE value our lifestyle, network of peers, ease of living, aspirational vision and how easy it is to connect to people;
WE are not in people's thinking: We are not in the back of people's minds, let alone front of mind, and;
WE should focus on our brain gain, rather than the brain drain.
SA presents opportunities to foster and grow global businesses.
The state government has made positive steps towards marketing SA with its New State of Mind Campaign to help encourage the brightest minds to rediscover a progressive, diverse, innovative and sustainable state. Effectively, selling SA as a place which change-makers will want to call home.
It's a great start, but again, it's just a start. Too often we have seen branding initiatives launch with great energy, but quickly fizzle like a birthday sparkler.
Members at the Committee for Adelaide firmly believe any brand narrative must be consistent and align with the state's identity – who we are today and what we desire to be in the future.
Our brand focus group is working to develop clear outcomes to help lead discussion around what SA's brand narrative could look like in the future.
But whatever our story, or identity, is, we must own and prosecute it with conviction, collaboration and authenticity.
Perhaps the greatest challenge is to get everyone on the same page; including the premier, government departments, businesses, and the community.
It is time for South Australians to remove any remnants of our long-held inferiority complex, find a clear identity, and let the nation and world know what we are all about, and market far and wide the compelling reason for people to visit, live, work and stay in SA.
SA's great, but we can make it even greater.
Click here to read the full article.